The Asus HD7870 is an enthusiast class video card. It embeds ASUS Exclusive DirectCU Thermal Solution: flattened copper heat-pipes contact GPU directly for up to 20% COOLER. Moreover, ASUS HD7870-DC2-2GD5-V2 comes with exclusive GPU Tweak utility, which allows users to modify clock speeds, voltages, and fan performance.
The HD7870 sold for around $260 at launch depending on the manufacturer and features. We also noticed this GPU was rebadged as the R9 270X followed by the R9 370X which are clocked higher which is typical with AMD.
Our card can easily be overclocked to even higher speeds with our TX850V2. This is why we recommend extreme power supplies. The TDP with an overclocked card can rise considerably so having extra headroom is very important.
ASUS Exclusive DirectCU Thermal Solution
PCI Express 3.0
28nm
1000MHz
2048MB GDDR5
256-bit VRAM
2 x DVI 1 x HDMI 1 x DisplayPort
GCN 1.0
1280 Stream Processors
2.56 TFLOPS
175W Max TDP
DX 11.2
The Asus HD7870 has a pair of fans on the cooler which is now becoming more common. The result is much cooler operation and far fewer RMA returns for overheated.
One interesting feature is the LED lights by the PCI Express power connectors. The HD 7870 needs a pair of 6-pin connectors. These red LEDs turn green when the power connectors are at properly attached.
The card has HDMI and DisplayPort with DVI-I and DVI-D. This is typical with video cards to endure every possible display can be handled.
AMD PITCAIRN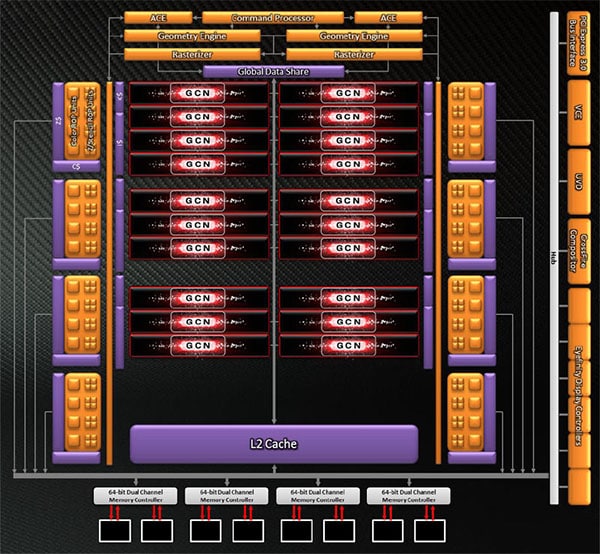 The AMD Pitcairn GPU is organized into 20 GCN modules. Each GCN provides 64 shaders which provides the 1280 shaders, Pitcairn retains the dual front-end layout of Tahiti, with a pair of geometry engines combining a geometry assembler, vertex assembler and ninth generation tesselator. It also retains the full complement of eight render back-end units, each with four ROPs, for a combined total of 32 ROPs.
The AMD Pitcairn is a large chunk of silicon coming in at 212mm² and 2800 million transistors. With 256-bit bus and 153.6 GB/s of memory bandwidth this GPU a respectable choice for gaming at 1920×1080.
AMD has done more for idle power than rival NVIDIA. The GTX 660 Ti cannot get below 15W at idle. NVIDIA focuses more on gaming performance. The HD 7870 can get below 3W at idle.
GAMES
The Asus card can almost hold 60fps with Battlefield 3 but it does slow to 45fps with Battlefield 4. Backing off on the game from maximum perks up the play considerably.
Most have a large collection of games and even modern titles are very playable.
AMD seems to have better default color but its a good idea to use the Windows color calibration.
HDMI & HDCP
The HDMI standard includes High Definition Content Protection. Asus has failed to implement that preventing this card from being used for BD video viewing. This: 6 years after the HDCP standard was published.
UEFI
The Asus web page claims this card is Windows 8 ready. But it lacks the requisite UEFI GOP extensions.
We have inquired several times with Asus for a UEFI VBIOS for our card but they have not responded with anything useful. UEFI GOP is needed to allow Windows 8 fast boot to support UEFI and GPT boot disk.
Disgruntled, we have been forced to abandon using this card for Windows 8 and 10.
AS TESTED
| | |
| --- | --- |
| CHASSIS | Corsair Carbide 300R |
| MB | Asus M5A99FX PRO R2.0 |
| CPU | AMD Phenom II X4 965 Black Edition 3.4 GHz |
| RAM | 12288MB DDR3-1600 dual channel |
| GPU | ASUS HD7870-DC2-2GD5-V2 2048MB HDMI |
| PSU | Corsair TX850V2 |
| MON | Asus PA238QR (1920×1080 60Hz) |
| HD | Seagate Barracuda 7200.14 ST2000DM001 |
| OS | Windows 8.1 x64 Professional |
PERFORMANCE
All of the benchmarks are available here.