The EVGA GTX 1060 SC 3GB (03G-P4-6160-KR) is an enthusiast class gaming display adapter. The GTX 1060 MSRP is $249. The rival RX 480 MSRP is $239.
The GTX 1060 is binned for a bad SMM module and one bad memory controller from the 6GB GTX 1060 line.
nVidia Pascal
16nm feature
7,200 million transistors
314 mm²
GP106
SM count 9
1152 CUDA
1607 MHz GPU clock
192-bit memory
3072MB GDDR5
2002 MHz, 8008 MHz effective memory clock
192.2 GB/s bandwidth
81.98 GPixel/s
3,935 GFLOPS
72 TMUs
48 ROPs
VR Ready
PCI Express 3.0 x16
6.8″ ACX 2.0 Single Fan
DX12 with feature level 12.1
OpenGL 4.6
Vuilkan
PCI Express 6-pin
DVI, HDMI 2.0b,  3x DisplayPort 1.4
7680×4320 at 60fps
HDCP 2.2
120W TDP
EVGA 3 year warranty
The EVGA GTX 1060 is definitely the sweet spot for 1920×1080 gaming. With the new Pascal architecture made at 16nm even as 120W this card delivers extreme performance.
Each Pascal core has 128 CUDA for single precision and it has 64 CUDA for double precision capability which delivers 437 GFLOPS single precision performance and double precision  is 1:32.
The GP106 is the left half of the GP104. Then the memory controllers are checked for binning along with the SMM units.
The move from 28nm to 16nm is not quite a perfect node die shrink. Still a lot of differences from the successful Maxwell can be seen. The die size of nVidia's GTX 1060 is huge. nVidia has crammed over 7 billion transistors into the GPU. Compared to Maxwell, Pascal manges about 70% more bandwidth.
nVidia stated that the GTX 1060 performance is comparable to the GTX 980 at a much smaller package, excellent starting point, and better power figures. Results will vary with various games but at 1920×1080 this GTX 1060 has it covered.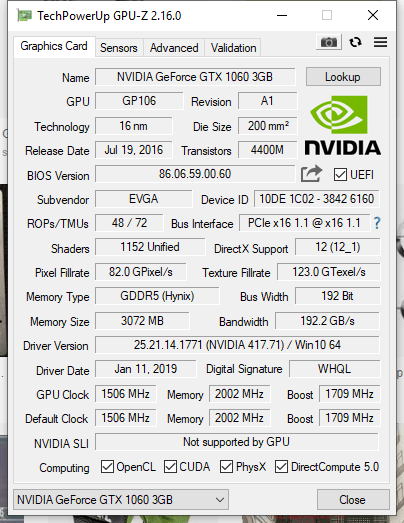 GPU Boost can increase the clock of the GPU until it hits a predetermined temperature target. In addition to many other Boost refinements, GPU Boost 3.0 now features custom per-voltage point frequency offsets.
In Maxwell generation GPUs, overlapping workloads (compute and graphics) were implemented with static partitioning of the GPU. However, this partitioning could only be changed after both workloads were completed. If one of the two workloads was completed before the other, the remaining one could not utilize the whole GPU performance, but was limited to the allocated part. This allocation is now dynamic with Pascal and can therefore utilize all the GPU resources.
The GP104 can encode 10-bit HEVC and decode 10-bit and 12-bit HEVC. Even VP9 video playback is also accelerated by the hardware (4K 120 Hz 320 Mbps). Beware nVidia broke some encoders with 417 branch of drivers.
FURMARK
The EVGA card with Furmark averaged 69 fps at 1920×1080 which is very respectable. The card tended to thermal throttle but this did not downclock completely bit rather the  GPU reduced TDP slightly. The cause of the problem is that thermal pads are not very good.
CRYOSTASIS
The old Physx beast of Cryostasis: Sleep of Reason is one of the most demanding games released. The EVGA GTX 1060 3GB makes the game very playable.