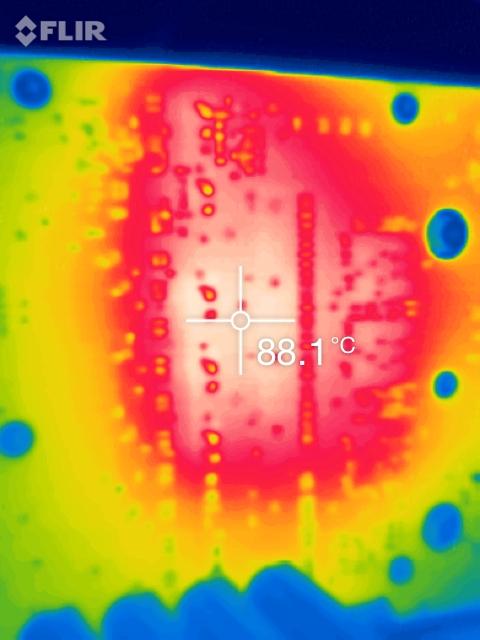 We have noticed some reports of EVGA GTX 1070 and EVGA GTX 1080 cards with dual fans that are overheating. The problem is the cooler does not cover the regulators which tend to run hot. This can lead to overheating.
The issue affects ACX dual fan cards, blower fan cards are not affected. About 1 in 400 cards seems to be affected.
There have been other issues such as the Micron memory problem which can be corrected with a VBIOS update.
Reports of burn regulators are known. On the EVGA forum somebody posted a FLIR image. We have copied to a cloud server so that it would have a permalink.
The image is from a GTX 1070 SC with a low cost FLIR ONE and an iPhone, The highest heat is near the CPU ASIC. The regulators are not seen on this image.
The heat buildup makes the case for a better quality chassis with several fans installed. Our Corsair 300R has 2 front intake fans and one rear and one top exhaust fan to provide extreme airflow to remove heat..
EVGA has redesigned the assembly so that regulators are being cooled properly. Existing cards can be sent back with RMA or users can request a  new thermal pad set if they desire to repair their own card. EVGA will replace the card with one that has proper thermal material on the regulators.
CARDS AFFECTED
EVGA ACX 3.0 GeForce GTX 1080, 1070 or 1060 cards with the following part numbers will be issued VBIOS updates: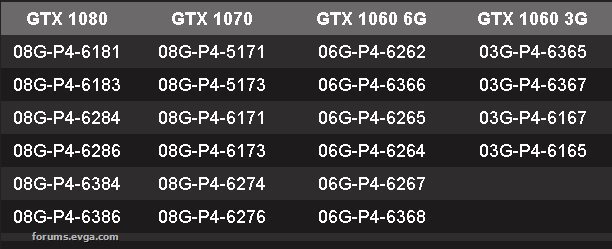 Founders Edition, Blower type, HYBRID, and HYDRO COPPER cards do not need these updates.
EVGA
contact support@evga.com for assistance
http://www.evga.com/thermalmod/ for ordering thermal pads
YOUTUBE

This video shows the flash fire when a regulator shorts out. So far we have only seen a very few cards with burned out regulators.