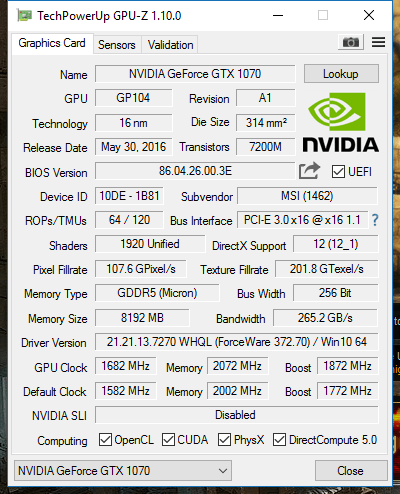 We have seen many forum posts over the VRAM as found on NVIDIA GTX 1070 and GTX 1080 graphics cards.
It seems that cards with Micron memory have some issues with switching from idle to higher speeds.
Overclocking enthusiasts report that overvolting the memory and locking it stabilizes the card.
Almost all vendors sell cards with overclocked GPUs and/or VRAM. This is especially common with enthusiast cards. Competition motivates factory overclocked cards with popular benchmarks.
The problem seems to be due to the regulator logic being unable to increase the voltage fast enough when the card switches into boost mode. The outcome is artifacting or crashing.
Download GPU-Z which can tell the type of memory used on the video card. We suggest using the program routinely to be able to monitor the temperatures to be sure the video card is not overheating,
NVIDIA has stepped up to acknowledge the issue and they are working with AIB vendors to provide users with an updated VBIOS. Most likely some changes to the WDDM layer drivers will be needed as well.
Check with your respective video card manufacturer for a new VBIOS which should be available in October 2016.
GTX 1070 VBIOS UPDATES
Nothing yet from Asus, Gigabyte (next week), Inno3D, KFA2/Galaxy, MSI (working on it), PNY, and Zotac.
OVERHEATING
In addition to the memory issues we have noticed several reports of regulators running hot. EVGA suggests increasing the fan speeds to keep the card running cooler. We suggest a steeper curve above 50°C and 100% at 75°C and higher.
EVGA specifically stated ACX cards are affected. Blower cards are not. One report of a card catching fire and another with a burned card suggest there are problems galore.
Several reports of overheating with MSI  GTX 1070. Gigabyte cards seem to be running cooler.