Intel has the Coffee Lake Z370 chipset which is their most expensive one. This affords to most features that gamers want. Combined with an i5 or i7 processor, the Z370 provides excellent gaming with an elite graphics card. It does not make a lot of sense to use an i3 CPU on the Z170 as it lacks the performance needed.
The Z370 spans about $105 and up depending on market values and available features.
The Z370 itself is made on the old 22nm line which comes in at around 6W maximum. It costs board makers $47 to place it on a motherboard.
The Z370 can support a maximum of 24 PCI Express 3.0 lanes. These are provided to provide board makers with additional slots over and above the primary video card slots.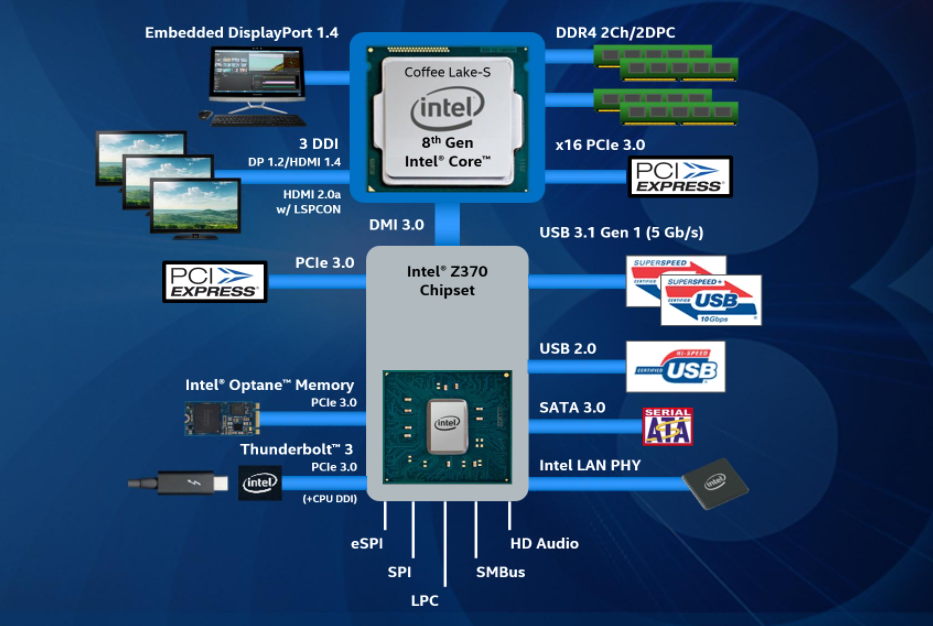 The new socket has 18 more power pins and 12 more ground pins compared to Sky lake/Kaby lake. Of worry is that the notches on the CPU are the same as Kaby lake which could cause problems when somebody installs an incompatible CPU.
The integrated HD 630 graphics support HDCP 2.2 so BD and UHD disks will work fine with a 4K display. DisplayPort and HDMI 2.0. Color depth support depends on the monitor in use. The HD 630 has 23 to 24 EU depending on the CPU selected. Clocks for the top CPU are 50 MHz faster. Reality is that a elite video card will be used in most Z370 implementations.
There are up to 6 available SATA III connectors for hard disks and older SSD drives. Lots of USB 3.0 ports and more USB 2.0 ports mean any front panel is supported.
Z370 boards are by far the best choice for gaming as they have the available components needed for gamers.
The Core i5-8600K and the Core i7-8700. These two parts are $50 apart, however the Core i7-8700 has double the threads, +10% raw frequency, 33% more L3 cache, and 1/3 lower TDP. If you can afford the $50 the i7-8700 is the CPU of choice for a Z370 motherboard. The flagship i7-8700K is quite expensive.
The big takeaway for the Coffee Lake, the Z370 offers the same level of performance for maybe $50-100 less than what Kaby Lake had to offer. Considering the price of video cards lately the integrated graphics are not looking so bad. The price of GTX 1080 Ti cards lately have been brutal.
The Z370 motherboards are a lot less power hungry which alone is a good reason to modernize.