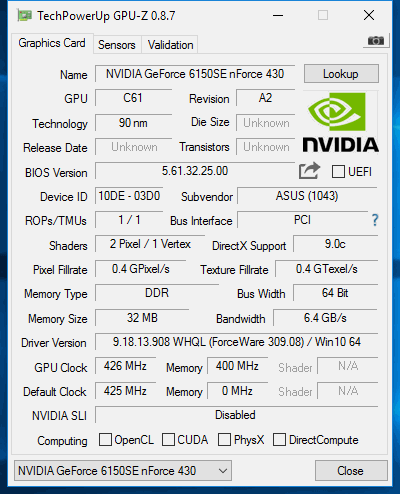 This 2016 machine was assembled with parts of the junk box.
The old Athlon 64 X2 4200+ 65W CPU was not powerful enough to cope with extreme video cards very well. With a card like the GT 640 however it can play many games easily.
Socket AM2 and higher have very low idle power levels of < 10W with Windows running. This makes them good for machines that operate for long hours acting as a NAS with other roles running.
The old FSG Group 350W PSU is enough for integrated graphics. Or a basic video card.
The machine was refurbished to act as a spare in case on of the other machines fails. In this age of ransomware and hardware failures, having an extra machine is helpful.
The value priced Asus M2N-MX SE PLUS has 2 PCI slots, helpful as the board only has 2 SATA ports. The floppy is obsolete but the EIDE port has some potential for using an old EIDE disk in case SATA disks are not available. PCI cards with 4 SATA ports are low cost and readily available.
We have a few old EIDE disks and they still work so using them for the operating system is a possibility.
This M2N-MX SE PLUS with the Athlon CPU can handle cards like our GT 640 but it's likely to bottleneck with cards like the GTX 950.
IMPROVEMENTS
A front panel USB and audio box like the one on the Raidmax Tornado would make the machine slightly more helpful. The old iCute has a door on the edge for USB that is not very accessible. With the machine operating, the front USB could be used as a charging port.
Asus M2N-MX SE PLUS only has 8 USB 2.0 ports. USB 2.0 cards are low cost. USB 3.0 cards require PCI Express slots. A powered USB 2.0 hub can expand the number of peripherals easily.
PCI SATA cards could turn this machine into a NAS easily. The CPU has low power idle which makes it lower cost to operate.