The AMD FX-6300 (FD6300WMHKBOX) 6-Core Processor, Unlocked, Black Edition. AMD's next-generation architecture takes 6-core processing to a new level. Get up to 24% better frame rates in some of the most demanding games, at stunning resolutions. Get faster audio encoding so you can enjoy your music sooner. Go up to 5.0 GHz with aggressive cooling solutions from AMD.
32nm
AMD Vishera (Piledriver)
Socket AM3+
3.5 GHz
4.1 GHz Turbo Core 3.0
95W TDP
DDR3-1866 32GB max
Hypertransport 3
The FX-6300 is intended to appeal to entry level gamers or anyone that wants to easily tweak their system. Meanwhile, being a simple drop in upgrade for anyone with a 990FX system virtually guarantees that users with older Phenom II processors will be looking on with interest.
Vishera is the second generation Bulldozer codenamed Piledriver. The improvements are generally incremental. CPU technology is very mature.
AMD's FX-6300 is considered by many to be the current "sweet spot" of the Vishera lineup since it combines six cores and a cache structure that's similar to higher end FX-series processors with fair asking price of just $132.
The Vishera FX processors increase the memory speed to DDR3-1866 which can improve main memory transfers. The FX-6300 is also designed to replace the older Thuban X6 processors.
While single core benchmarks are mediocre, the threaded performance is actually better than Intel's rival processors. Today Windows may be running over 100 tasks so multithreaded processor performance matters more than most realize. Microsoft released a couple of updates for Windows 8 that greately improved the desktop experience. Windows 8 and above support this CPU natively.
The AMD Vishera can compete with Intel's Sandy Bridge fairly well. The cost is lower which will appeal to the budget conscious. After 2 years prices have come down considerably making a CPU upgrade almost painless.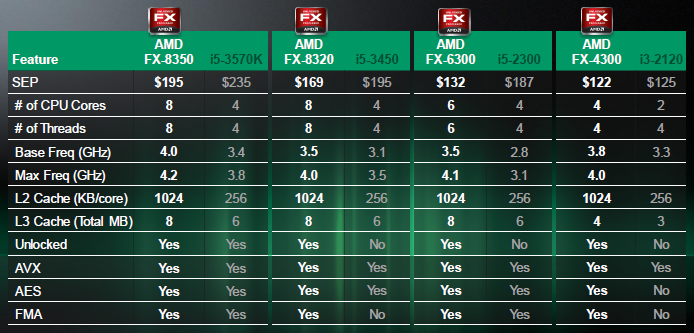 GAMING
The FX-6300 is actually a rather solid processor. We have tried several video cards and the CPU doesn't bottleneck at all.
Even demanding games like Crysis 3 and Metro Last Light use the GPU and do not load the CPU much.