Toshiba Satellite Pro A70
Intel Pentium IV 532 3.06 GHz 88W TDP
AMD Mobility 9100 IGP DX6 AGP 8x
15.4 inch TFT 1280×800 WXGA
DDR-333 512 MB
Atheros 802.11 a/b/g
RealTek FE
V.92 56k FAX MODEM
Matshita DVD-RAM UJ-820S
Dolby Audio
Toshiba 80GB Ultra DMA/100
Windows XP Home
120W 19V 6.2A PSU (5.5mm x 2.5mm barrel)
The Satellite A70 is a desktop replacement class mobile machine.
The model we are reviewing is the PSA70C-RW100 which was sold in Canada circa November 2006 and it comes with 512MB of memory. There 2 USB 2.0 ports on the back and an one additional one on the right hand side. The DVD drive is on the left hand side.
This machine runs warm in general operation. There is a large CPU and GPU cooler that exhausts warm air out the rear of the machine. Its important that the rear of the machine is not obstructed so that proper airflow is maintained.
CPU
The mobile Pentium IV 532 was released June 1, 2004 at $234. The CPU runs at 3.05 GHz which quite fast and the TDP at 88W is the main reason the battery does not last long. Maximum power dissipation in battery-optimized mode is 48W. Windows XP needs a driver but Vista and above fully support the CPU capabilities.
Machines of this class can consider the battery more of a uninterruptable power supply than really being capable of mobile use. The Pentium IV supports up to SSE3 which is sufficient for modern 32-bit packages.
Unfortunately Toshiba solders the 512MB of memory to the logic board instead of using slots. The means that dual channel operation is frustrated which hurts performance. It also limits the maximum memory as well given that 1024MB DDR SO-DIMM are widely available. Had Toshiba used the contemporary DDR2, it would have afforded the machine as much as 4GB of memory. Instead this machine is capped to 1.5GB DDR memory.
Testing the memory we noticed that DDR on the Toshiba A70 manages about 750MB/s which is typical. A decade later, flash memory is only now reaching the speed of RAM.
BATTERY
The 12 cell 6450 mAh battery will last maybe 2 hours and 90 minutes is more realistic. Watch out for lower cost 8 cell batteries, they do not last long at all.
The OEM charger is a large brick. This is due to the heat from 120W of power. The 19V 6.2A supply is needed to charge the battery and operate the machine. See the page on laptop power supplies. We feel a power supply with 6.5A would have afforded more power to operate the machine while quickly recharging the battery.
The CPU does operate in reduced performance mode when on battery but at 48W its still a brutal load.
The 120W power supply for the A70 is rather large and heavy. Testing it with the P4400 showed it to be very inefficient which explains why the PSU runs so warm. That warmth is waste heat. The P4400 shows the A70 PSU to be < 60% efficient.
GPU
Windows XP expects DX9 graphics however, for unknown reasons, Toshiba chose the obsolete AMD 9100 IGP series video is basic but it delivers good general desktop capabilities. The 1280×800 native resolution has a16:10 aspect ratio suitable for watching DVD movies. The VGA port can support up to 2048×1536. The LCD is very bright and the level of detail is good. With its 15″ class screen its actually quite usable for general internet surfing, watching moves and listening to music.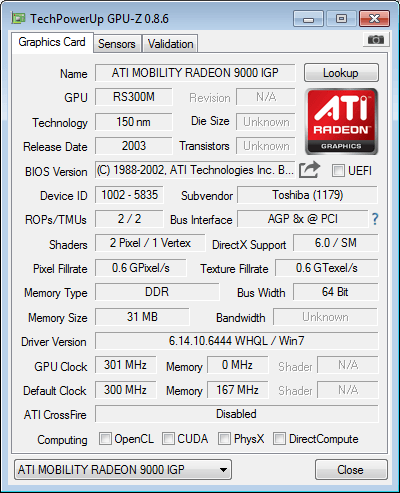 The Radeon 9100 IGP is capable of playing many games at its native resolution reasonably well. Unreal Tournament 2003 runs slow but Quake II runs great. We tried Deus Ex and it also works reasonably well.
While Windows Vista was known already, this machine was assembled with generally obsolete components even from the XP perspective.  The 9100 IGP is only DX 6 (shader 1.4) which makes it Windows 95 vintage. NVIDIA's mobile hardware is DX9 compliant.
HARD DISK
The Ultra DMA/100 80GB disk is big enough for Window XP easily.  EIDE disks are now hard to find, but EIDE adapters for Compact Flash cards are available at very low cost and these fit the hard disk bay easily. Compact flash is easily available for 64GB and 128GB so its possible to run the machine with flash memory. EIDE hard disks are available up to 320GB for laptop machines. 512GB CF cards are rather expensive but lower prices are inevitable. Running Windows from such extreme storage would improve the boot times considerably.
DVD
The Matshita DVD-RAM UJ-820S 8x drive is fast enough to install Windows quickly. OEM software to play DVD videos is widely available. This drive has no issues with CDR or DVD Dual layer media.
NETWORKING
The machine has the usual Fast Ethernet connector and it also has a V.92 56K fax modem. The Atheros Wi-Fi is old but modern infrastructure is backwards compatible with even 802.11ac access points. No problems with fast downloads of Windows updates, the CPU was the material bottleneck. The growth in broadband has make the 56K MODEM virtually obsolete. The A70 has a switch on the right  rear side that can be used to disable the Wi-Fi and save power when its not needed.
USB 802.11 n150 adapters with an antenna are inexpensive and they work much better than the cheaper models with no antenna. This way the Toshiba A70 can take advantage of modern fiber based internet with gigabit access points. The old 802.11g however still runs well with cable or SDL internet connections fine.
PERIPHERALS
The machine has the perfunctory track pad but the rear USB ports are spaced apart so a USB mouse can easily be used. This gives the machine a solid Windows platform. A USB hub can easily be attached to expand the connectivity.
Below the CardBus slot is a port for MMC, SDcard and Memory Stick Pro etc. This allows the machine to be able to read camera cards of all the major formats. The audio is on the right side and there is a volume control. This permits watching movies privately.
USB flash memory has dominated the PC for a long time and USB adapters for modern camera formats are widely available. The latest SDXC standard brings the maximum capacity up to 2TB. We have a USB 56-in-1 reader that has survived for a long time.
PCMCIA
The A70 supports PCMCIA for peripheral expansion. This slot uses the old EIDE interface to the southbridge disk controller. This machine uses the Cardbus II slot which is the faster version of PCMCIA. Compact Flash cards cans be inserted directly and they are recognized as storage. 128GB high bandwidth CF cards have fallen to below $50 making them an attractive alternatively to hard disks. Larger capacity 256GB and 512GB flash cards have enough bandwidth for BD video easily.
WINDOWS UPGRADE
Adding an additional 1024MB of DDR memory makes Windows XP much more practical on most machines. AMD abandoned a lot of legacy hardware long before XP was retired.
Installing Windows 7 on the A70 was not a problem. To get the graphics at native LCD resolution, download the 2004 driver for the A70 then run it. The driver installer will fail but you can then manually install the driver. Open the device manager and then the display adapter and select update driver. Select the display driver folder and let windows search it. The search may take some time as Windows needs to check a lot of files. Then it should ask for a reboot and the machine will be ready.
A curious fault with the machine causes it to BSOD when installing Windows 7 using a Microsoft 3500 series mouse attached. Removing the mouse allows Windows to install without the HIDCLASS.SYS 7E fault. This suggests a possible BIOS fault on the machine.
LINUX
Ubuntu Linux 32-bit installs quickly and it has no issues with 1280×800. The Atheros Wi-Fi is also recognized making updates easy. Power management works properly so the machine will idle when not used. FireFox is the standard browser.
Linux crashed several times suggesting its not very stable with older machines. This is largely due to a lack of hardware manuals that can be consulted. We have discussed this problem with Linux developers who are working on this and other problems.
There are numerous variants of Linux so its possible that a different desktop might be more stable.
HARDWARE UPGRADES
Be careful when looking for replacement batteries, there are a lot of 8 cell batteries but this machine needs the more powerful 12 cell batteries for realistic mobile use. New batteries are now available with 7800 mAh which can give the machine a lot more operating time. The machine will charge the battery with a 90W PSU however this machine needs 120W of power in order to run as the CPU is too demanding. Universal 120W power supplies are readily available that support the A70 series.
Xtreme Cables 88920 120 Watt Universal AC Adapter For Laptop and 2 USB charging ports – Black
Adding the 1024MB DDR stick does add slightly to the overall power load but machines are designed to manage with maximum memory. There are low cost EIDE adapters to install a Compact Flash card, which would make storage roughly as fast as main memory. DDR-333 on this machine barely manages 750MB/s. 128GB CF cards are widely available. The 512GB cards are still very expensive.
BIOS PASSWORD RESET
Toshiba, like many, have published several BIOS updates. The Toshiba installer works fine in Windows XP, Vista and 7. Toshiba BIOS 1.6 is the final version for the A70 series.
There are thousands of posts asking how to remove the BIOS password. To reset the BIOS on a Toshiba A70 notebook machine or similar Toshiba A75 notebook machine, the contacts are near the network adapter under a metal bar that is screwed down.
The bar uses a Torx screw. The contact can be shorted using a flathead screwdriver while rebooting the machines. It may take a few attempts. The image on the right shows the exact location of the BIOS reset pad. Click on it for a larger version. Once the BIOS is reset, remember to set the date and time in the BIOS to prevent Windows boot issues.
A BIOS password is not secure, the higher professional version of Windows supports bitlocker which is secure. This can be erased safely and the machine refurbished with no concern for personal files. Toshiba does not like refurbished machines. They want to sell new machines. The problem is that many poor people cannot afford new 15″ class machines even with lower prices.
GAMES
The built-in games in Windows are best for this type of machine.