The modern 72 bedroom mansion may have several devices all contending for internet access. This is easily managed with a few simple tips.
By placing the Wi-Fi boxes on the ceiling of the hallways makes it much easier to install and upgrade over time. With a U shaped hallway for the mansion, placing access points in the middle of each hallway provides better coverage. Longer halls should have 2 or more Wi-Fi access points to eliminate dead areas.
Modern Wi-Fi boxes have automatic capability.  By using the same SSID for each box it's easy for a mobile device to move from a bedroom to the kitchen without any loss of connection.
Cat 8 cable is best for now, it can handle 10GBASE-T easily and it can even handle 25GBASE-T and 40GBASE-T for those who want to spend the cash on the fastest hardware. Then the cables can interconnect each access point box to the primary ISP proved equipment.
These days providers are increasingly delivering internet via single mode fiber so the use of more sophisticated network box can be justified. Speed range from 150 Mbps to 1 Gbps and faster.
The entertainment system can be run with Wi-Fi.  Same applies for gaming, Wi-Fi has become fast enough to eliminate lag.
WI-FI STANDARDS AT A GLANCE
| | | | |
| --- | --- | --- | --- |
| Category | Wi-Fi | Gigabit Wi-Fi | Next-gen Wi-Fi |
| Standard | 802.11n | 802.11ac | 802.11ax |
| Maximum Speed | 300 Mbps | 1.3 Gbps | 4.8 Gbps |
| Public Release | August 2011 | December 2012 | 2018 |
| Spectrum | 2.4 GHz, 5 GHz | 2.4 GHz, 5 GHz | 2.4 GHz, 5 GHz |
| Bandwidth | 40 Mhz | 80 Mhz | 160 Mhz |
| Number of Antennas | 2 | 3 | 4 |
Wi-Fi improvements tend to follow improvements in semiconductors. Wi-Fi hardware is a software defined radio with an increasingly complex signalling,
802.11AC WAVE 2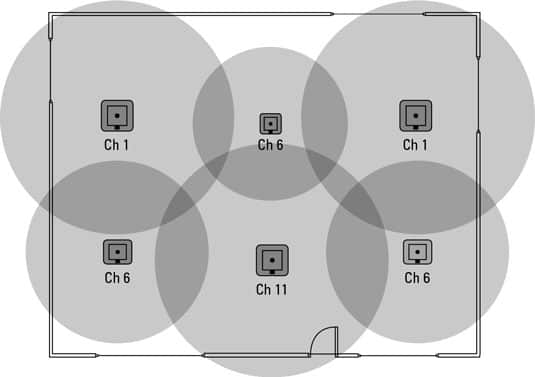 802.11ac wave 2 hardware is now available and it can deliver gigabit throughput.
With support for multiple user MIMO (MU-MIMO) the performance is busy ares is much better.
802.11ac wave 2 access points can work with each other to better eliminate interference, Wave 2 hardware can work with as many as 3 nearby access points to negotiate channels to maximize aggregate throughput.
802.11n uses 20 Mhz and 40 MHz channels. 802.11ac added 80 MHz and now wave 2 adds 160 Mhz channels.
802.11ac wave 2 als provides for up to 4 spatial streams which increases overall bandwidth. Improved performance is seen with 5 GHz  which has more available channels than 2.4 GHz.
802.11AX IS COMING
Prototypes for 802.11ax hardware are now being developed as the standard itself is still being developed. MU-MIMI and 160 MHz channels are already being adopted by 802.11ac. Spatial streams have also been adopted by 802.111ac.
802.11ax is 4 times faster than 802.11ac which is 4 times faster than 802.11n. The 802.11ax standard may be completed towards the end of 2018 with hardware available in 2019..